Delroi "Candy Man" Whitaker was born in Los Angeles, CA. When he was the tender age of one, his parents Hazel and Clifford Whitaker Sr. bought a home in Compton where Delroi and his two brothers Clifford Jr. and Erik were raised. He was raised in a loving home and his parents always made their kids attend Sunday School. Delroi loved to sing Elvis Presley songs. As he and his brothers used to play, he would sing the lyrics to "shake like a leaf on a tree" from the song "All Shook Up" by Elvis. As he grew into his teen years, he had collected many albums by Elvis. He was teased about this by his cousins and others. And even today, Delroi plays and collects classic songs by Elvis. He loves the wedding songs and "I Can't Help But Fall in Love" from the movie "Blue Hawaii" starring Elvis. He recently picked up a set of CD's with songs from Elvis that he hadn't heard before such as "He Touched Me" and "Snowbird".
Delroi attended Los Angeles High School where he first got interested in photography. His brother Erik introduced him to a teacher by the name of Jerry Winer. Erik worked on the staff for the school newspaper and Mr Winer was the staff member in charge. Mr Winer took Delroi under his wing and showed him a lot about the newspaper and about photography. Delroi left L.A. High School after the 10th grade and attended Dorsey High School in the 11th grade doing half a semester, only to return to LA High School. When he returned, he continued to work as a staff photographer for the school newspaper and he ended up with 2 "Best Photography Awards" back to back.
Delroi branched out and began taking photos of bigger events. Erik was a photographer for Soul Publications and took many photos of celebrities such as Diana Ross, Smokey Robinson, The Temptations, & The Four Tops. The Four Tops once came to LA High School and performed an entire concert. Erik took photos for Ebony & Jet magazines and NASA's first African American involved in a space program that died in a plane crash. At that time, it wasn't expected that those celebrities would become as famous as they did. Delroi worked with Erik on "Whiskey a Go Go" with The Four Tops which was a cover shot for Soul Publications. Delroi's photo of Levi Stubbs graced the cover on which Erik's name was erroneously credited. The brothers joked about it at the time and Delroi was thrilled to see his brother's name.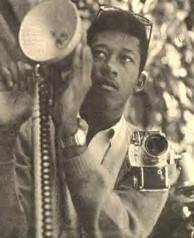 At the age of 16, Delroi worked with Erik as his assistant without having a thought of becoming a professional photographer. By hanging out with Erik and assisting him on different jobs, Delroi developed a love and passion for photography and also taught him a great deal about the photography business in general. Erik was Delroi's mentor and he couldn't have had a better teacher. "I wanted to explore my God given talent and I thank the LORD for allowing me to be with Erik and learning so much." says Delroi Whitaker.